Round 2, I say it like that because it felt like this time around organizing was a boxing match!!  I had some hard hits tackling my kids domain i.e. kids rooms, Lego room, toy room, and craft room.  I had also planned to organize and revamp my work space but as of it yet that is still on the to do list as I am getting a new desk built.  More on that at a later date.  Let me share with you my ideas on maintaining and organizing the big messy culprit in our house…..toys and kid paraphernalia.
First up Nerf gun and weapon wall:
This was actually super easy to accomplish and cheap too!  I found this peg board at my local Lowe's for a lot less than expected.  Lowe's also had packages of hooks and such for peg boards that were much more cost efficient that buying each piece individually.  I mounted the peg board with 1″ pine, and hung up the toy guns.  I found there were so many different pieces in the hardware pack that worked for certain guns.  For example the containers for the nerf bullets.  Now I am happy to report the toy chest isn't emptied on the floor to find bullets or certain guns.  Everything has its place, is easily spotted and played with more.
Lego room:
Now to be honest I don't think I will ever organize a Lego room again.   Seriously this was painful both figuratively and literally.  There were definitely feet and bums harmed in this production.  Not to mention the amount of time this took.  I guess time will tell if my efforts were worth it.  I have seen Legos organized many different ways and debated on how to organize mine.  The color organization system seemed easy enough but I couldn't see that as being the most efficient way.  I organized mine by size and shape.  Maybe that's why it took so long….so many shapes who knew??  I categorized my bins as following:
Flat pieces with more than two peg rows along with house or building structures.    (two small bins inside one drawer)
Square or rectangular pieces with two peg rows along with small single peg row pieces. (two small bins inside one drawer)
Lego people and all parts concerned along with car parts and pieces.  (two small bins inside one drawer)
Miscellaneous and odd shaped pieces.
Halfway finished projects.  (Don't want to ruin what they half way completed, keeping safe.)
Lego sets that are still packaged together, along with all the Lego books and instruction.
Lego duplo, I didn't organize this as it seems to be played with less as my kids grow, also larger pieces are easily identified in one bin.
Megablocks, again all in one bin as they are seldom played with and large enough to find what is needed.
Craft room:
This was a fun project, maybe because I enjoy crafting with my kiddos.  I went to my local goodwill store and found so many bins, buckets and trays for this project, granted all different colors and sizes but for a craft room that's exactly what I am looking for.  Best part is the price tag!! Plenty of great items for a quarter.  My aqua craft shelf is an old hand me down from my grandmother's home, repainted and re-purposed.  I hung it at kid level and it is a catch all for all things craft. Placing smaller bins inside the shelf unit with crayons, pencils, markers, glue, tape, scissors, etc.  Down below placing larger bins for our yarn, and sticker supply.  Having a finished artwork bin helps to control the paper mess.   Our large craft table is an old dining table re-used for our messy endeavors.  We keep our construction paper, drawing and writing paper in our magazine holder on the top of the table right next to our art paper rolls.  Paper all in one place and easy to sort through.  Next to the paper we keep all things paint (paintbrushes, water colors, water bins).  I have a smaller craft table purchased at the goodwill for my youngest.  She can now join the fun at her level.  Keeping a orange wood tray to house all of the supplies in small buckets containing crayons, markers, pencils.  We have a closet in the craft room containing more art supplies used less often, keeping the craft room less cluttered.  I am really happy how this room turned out as it is the second most used room in the house!
Work space inspiration: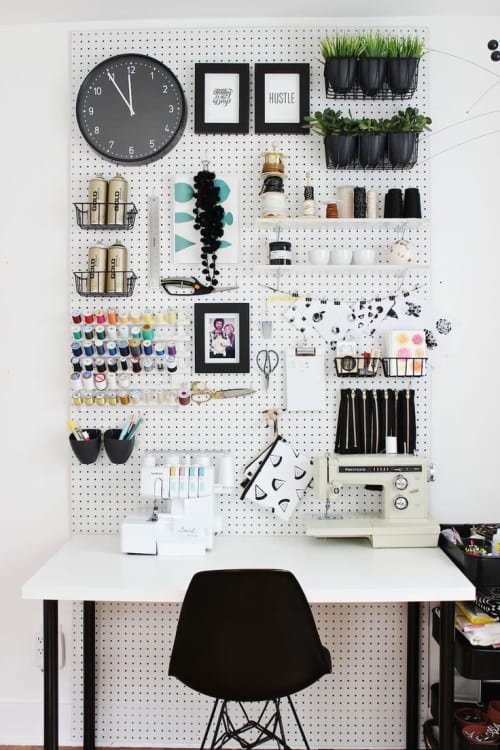 Thanks to A Beautiful Mess for the inspiration on my work space.  As I said before I was hoping to have this completed before writing this post but having a custom desk made apparently takes time.  This will have to remain a work in progress revealed at a later date.  Until then I will keep this in my favorites loving the peg board organization for a small space!
Do you have an amazingly organized work space?  Please share with me what your work space looks like!
Feels so good to donate and de-clutter!  Off to the goodwill! Have a good Saturday!!